Hello and welcome back,
Update from 2021.08.25:
I'll be back

Depend on the chip crisis around the world: TPM2Go was delayed until I've recived new chips.
To LetsTrust-TPM without "2Go" will could manufacture the LetsTrust-TPM. For that Project we have chips and all other componends in our stock \o/.
Bye for Now!
Paul
Update from 2021.02.08:
I'm not really happy about the next lines but I want to be honest to all of you and it was more personal as all the other posts:
Since the last few months we have had a hard lockdown depend on the pandemic situation in Bavaria/Germany. My seven years old daughter stays at home for over seven weeks, schools are closed, see some friends it's not possible (family reasons).
I'll spend more time with my Family the next weeks.
What happens to the LetsTrust-TPM2Go:
The Project was stopped. New preorders were cancelled and all orders were unwound.
The Reason: I don't want to sell and deliver hardware for that I could not guarantee 100% functionality.
Post from 2020.10.23:
Hello and welcome back,
today i want to present my new product:
LetsTrust-TPM2Go
!
LetsTrust-TPM2Go is a USB 2.0 stick with built-in TPM. Plan to use it with your Mac, Linux PC or single board computers with USB-A ports.
Why did I design this thing? Simplify development of applications with TPM support if your embedded device is not ready yet OR you only have free USB-ports on your target device.
Now here is the first picture of the first four LetsTrust-TPM2Go: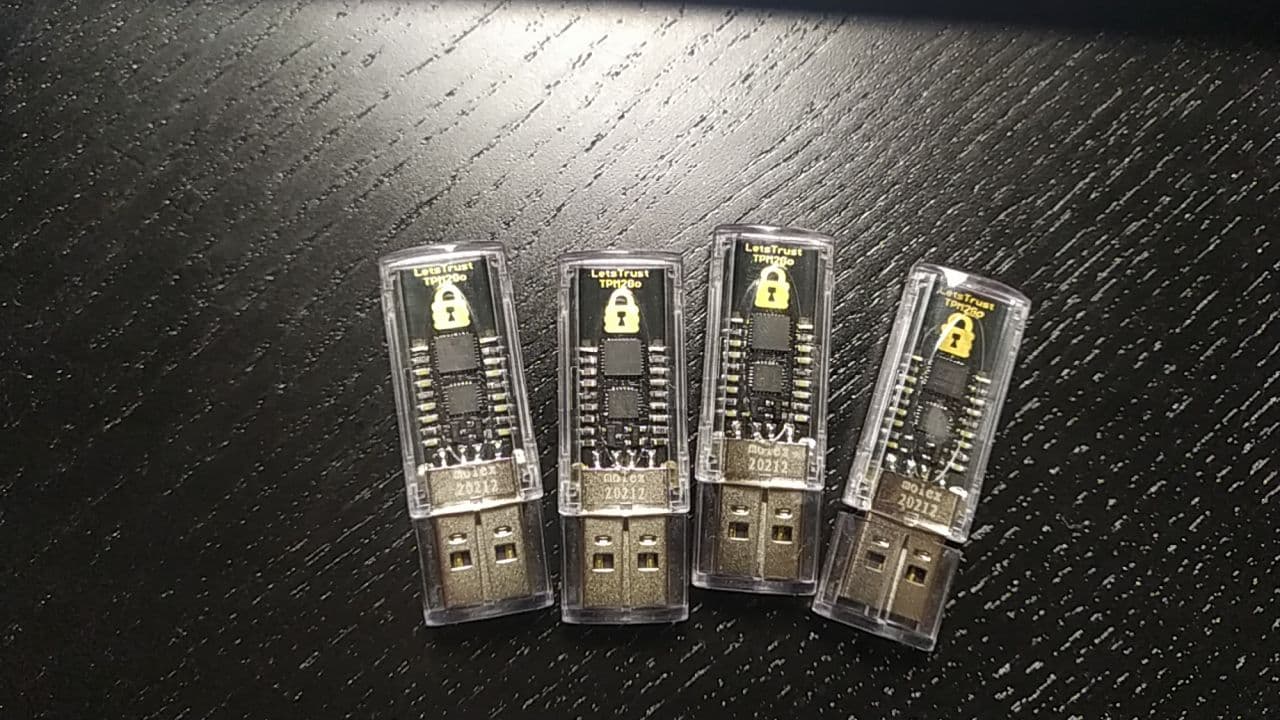 Features:
- Infineon Optiga™ SLB 9670 TPM 2.0
- TCG Spec 2.0 Rev. 01.38
- SLB9670 with FW: >=7.85, known from LetsTrust-TPM
- USB2.0 SPI Bridge based on CY7C65211
- libusb compatible
- Tested with https://github.com/tpm2-software/
- Planned TCTI-Driver in tpm2_tss for a "so-called" plug&play usage
- LetsTrust-TPM2Go was designed and manufactured in Bavaria, Germany.
- 2 LEDs for "USB-RX action"/"User LED"
- transparend ABS housing for the PCB
Preorders are open now, you'll find the LetsTrust-TPM2Go here:
https://buyzero.de/products/letstrust-tpm2go-usb-2-0?variant=37122157510836
Bye for now!
Paul
The author does not allow comments to this entry